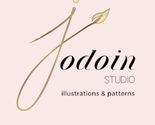 All designs by Manon Jodoin
You are permitted to sell items you make with my fabric, but request you credit Jodoin Studio as the designer. PLEASE CONTACT ME if you would like a free scale or for licensing inquiries. Tag me on Instagram @jodoinstudio or email to jodoinstudio@gmail.
Description:
A collection of hand-drawn​ flowers with a vintage vibe.