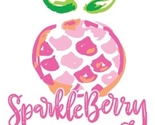 All designs by Mandy Graham
Hey friends! My name is Mandy and I'm just a girl who loves to doodle and create beautiful things! We started SparkleBerry INK in 2015 printing patterned vinyl for craft lovers. Seeing my patterns on fabric has been a dream of mine and now it's here!
Description:
Our Choose Happy is whimsical and bright and perfect for all your rainbow projects!