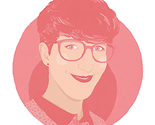 All designs by Sarah Deters
Hi, I'm Sarah, freelance designer and illustrator from Northern Germany. I love bold colors and may have a soft spot for all shades of pink and red. My work is mostly digital although I tend to sketch on paper first. Follow me on Instagram for more:
Description:
Foodie's delight - hand-drawn patterns picturing a variety of delicious foods. Perfect for handmade beeswax wraps.