BLUE Denim texture with lace, costume jewelry a...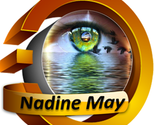 All designs by Nadine May Beck
Greetings from South Africa - Cape Town. I love to inspire others through creative writing or decorating P.O.D products and fabrics for creative spirits alike. https://za.pinterest.com/nadinemay/
Description:
Denim texture decorated with jean pockets and kittens, white-cream lace and costume jewelery for party decor - children rooms - accessories, clothing or wall decor.