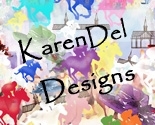 All designs by Karen Del Pellegrino
From the age of six I've sat at a sewing machine clothing Barbie with my talented Mom's fabric scraps, graduating to my own wardrobe soon after. To design my own fabric is a wondrous thing!
Description:
So many variations... so little time.This collection is a pure flight of fancy that includes coordinating border prints. Designed and printed in the USA on natural textiles.© Karen Del Pellegrino - All rights reserved.