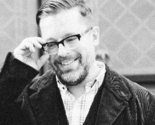 All designs by Robert Mahar
Robert Mahar is an artist and designer who teaches imaginative crafts and do-it-yourself projects through online video tutorials and in-person workshops.
Description:
Remember taking a loop of yarn and stringing it between your fingers to create all sorts of shapes and configurations? They're known as String Figures and served as the inspiration for this pattern and its selection of ridiculously happy colorways. Head on over to the Spoonflower Blog and find the post entitled "Turn Your Embroidery Art Into a Patch with Robert Mahar" - and I'll show you how take imagery from this classic kids pastime and transform it into wearable art.