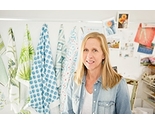 All designs by Melissa Hyatt
I feel lucky to have grown up around my two grandmothers, both artists, who taught me to value the importance of beautiful artwork. Inspired by their artistry I strive to paint everyday to expand my knowledge and love of watercolor.
Description:
Create a realxing Tropical Oasis with these designs in shades of soft aqua and blues.