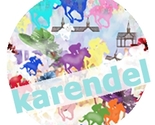 All designs by Karen Del Pellegrino
From the age of six I've sat at a sewing machine clothing Barbie with my talented Mom's fabric scraps, graduating to my own wardrobe soon after. To design my own fabric is a wondrous thing!
Description:
Why Somali Cat designs? Full disclosure, my husband and I were captivated by these long hair beauties and became involved with establishing the breed. We were present in 1978 when the CFA Board of Directors in Rosemont, Illinois voted to accept the enchanting Somali Cat as a new breed. The experience is documented at the website, A Definitive History of the Somali Cat. Small screen viewing is not recommended because the pages will not recognize teeny weeny smart phone screens: you will need a real laptop or desktop computer.