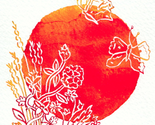 All designs by Julie Shaw
I design for my own pleasure and for gifts for friends and family. I love Celtic Knotwork and design and draw my own knots. I take commissions for wedding stationery and cards. Link to my flickr swatch and creations sets below.
Description:
All my fabrics with little birds on!