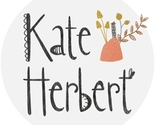 All designs by Kate Herbert
Hi, I'm Kate Herbert, a UK based illustrator and designer working from my little studio in Manchester. I adore pattern and colour and love bringing hand drawn, textural elements to my work. Thank you for visiting, I hope you enjoy looking at my designs!
Description:
Inspired by the British forest and its inhabitants and featuring a range of woodland characters, Woodland Stories creates a magical world in the forest and imagines the secret lives of the animals, their activities and pastimes as well as the sights and colours surrounding them. It blurs the line between reality and imagination, with nods to the falling leaves, the mushrooms and wild flowers that grow in the shadow of the trees.