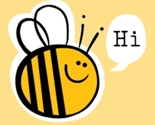 All designs by Bethany Berndt Shackelford
If I could pick one word to describe what I do, it would be the Latin word PINGO. It means... I illustrate, I decorate, I adorn with color! My background is in TV & Film but now I get to use my "fun side" and be a surface designer.
Description:
Get a American Almanac feel with printed vintage flour bags with all your farm friends mixed with funky typography.