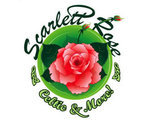 All designs by Scarlett Rose
Celtic, Fantasy & Asian Design Artist, Quilt Book Author, Teacher and Quilt Judge for over 30 years. Lifelong interests include dressmaking, tailoring, needlework of all kinds.
Description:
A Celtic knot with unexpected possibilities, the original version of this design appeared in 100 Quilt Blocks magazine as #114.