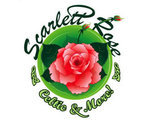 All designs by Scarlett Rose
Celtic & fantasy artist for quilting, sewing, etc. You may use fabrics for your handmade items, but please tag/credit @ScarlettRoseCelticMore. I'd love to share your projects on Pinterest & Facebook! For any questions or licensing, please contact me.
Description:
A Celtic knot with unexpected possibilities, the original version of this design appeared in 100 Quilt Blocks magazine as #114.