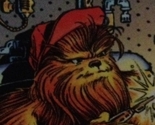 All designs by Jerry Witman Jr.
I like to make obscure fan art. You know that stuff only true fans will thoroughly appreciate it. I love nostalgia and old dead brands. But I also love iconography. Check out my Ko-fi site for special offers and one of a kind fabrics
Description:
A collection of designs waiting to be proofed. Send me a message if you would like any of these designs proofed and offered for sale.