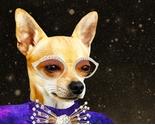 All designs by Autumn Musick
I love seeing what you make; please tag me on Instagram @autumn_musick. Thanks for checking out my stuff! Changes are no problemo-- let me know if you'd like to see something in a different color or scale.
Description:
I was taking off my nail polish, tossed a polish-and-acetone-soaked cotton ball into the wastebasket, and missed. The little splat on the wall was neat, so I made it into some patterns.