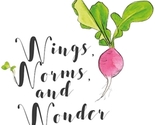 All designs by Kelly Johnson
Kelly is an artist, author, nature journaling guide, & children's gardener. She shares her love of art & nature through her books, blog, illustrations, workshops, and eCourses - all within her little company Wings, Worms, and Wonder.
Description:
Celebrate fall harvests with the Bread Riot collection featuring that hot grain, wheat! Love or hate to eat it, wheat is an fun and iconic design for fall decor!