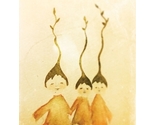 All designs by Marna Widom
Hello! My name is Marna Widom and my images come from watercolor illustrations inspired by wonder, nature and the pure delight of childhood. Add some magic and whimsy to your sewing! Just ask if you'd like a larger or smaller design of any fabric.
Description:
Winter elves blowing stars into the sky.