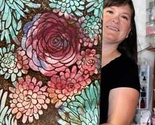 All designs by Bethany Ogle
Amborela surface patterns are created by painter/illustrator, Bethany Ogle. Love to see what you've made! Tag on instagram #amborela. Mix and match from "designed collections" to coordinate fabrics for your next project.
Description:
Spooky collection of Halloween prints by Amborela with black cats, spiders, candy corn, and pumpkins for Halloween crafts and sewing.