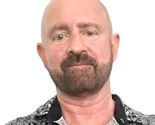 All designs by Patrick Moriarty
My textile print designs have been bought by major retailers worldwide for the last 22 years for fashion, accessories and home decor. In 2013 I launched my own website & brand paisleypower.com specializing in creating unique fabrics and fabric products.
Description:
The hearts were hand-painted by Patrick Moriarty and then scattered to form this attractive new design. It's perfect for romantic gifts any time of the year but especially on Valentine's Day. Ideal for girlfriends, boyfriends and even your adorable pets. It's great to be able to sell this design as fabric to customers worldwide on the Spoonflower website. Patrick has more than 100 unique designs available for you to buy via Spoonflower.com. Take a look at all his professional designs , which are suitable for fashion, accessories, home decor, stationery, wall coverings and many other uses. Enjoy his creativity!