Mr and Mrs Claus Loves....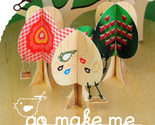 All designs by Go Make Me
Go Make Me – contains 100% fun stuff to make and do. Go Make Me also sells printable cards, gifts, mobiles and other fun activities in pdf format. Visit the Go Make Me shop via the link below or visit the blog for more inspiration and a chat
Description:
Fun, colorful and cheerful characters celebrating Christmas. What's not to love at Christmas? Plum pudding, gifts, candy cane and more!