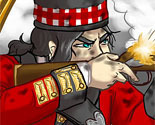 All designs by Anne Hoffer
My day job is as a lab tech for the state, but my hobby time is primarily devoted to art. If you would like any of my designs resized or recolored, don't hesitate to contact me. I am also available for fabric design commissions.
Description:
A collection of decals and fabrics based around a set of pins I made featuring a bunch of kittens having a tea party.