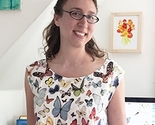 All designs by Anne Butera
I am a self-taught artist who finds inspiration in the beauty of my garden and the magic of nature. I work primarily in watercolor but also love challenging myself to try new things. I strive to seek out and celebrate life's little joys and daily graces.
Description:
Herbs beginning to bloom. The first radishes, baby carrots and peas freshly harvested. Empty flower pots awaiting plants. Even the smallest detail is worth capturing in my sketchbook. This collection takes the joys of working in the garden and translates them into fabric designs.