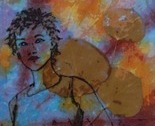 All designs by Magi Hernandez
A free lance artist, designer, instructor. Art Historian specializing in religious art of the Orthodox Coptic Church; and art referencing religious concepts in pop-culture FRPGames.
Description:
Realistic and abstracted portraits on fabric. Art photos, drawings, paintings, sketches of people designed for wearable art pieces. Single image designs for perfect for knit shirts and dress; as well as large and small repeat pattens of the human face.