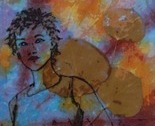 All designs by Magi Hernandez
A free lance artist, designer, instructor. Art Historian specializing in religious art of the Orthodox Coptic Church; and art referencing religious concepts in pop-culture FRPGames.
Description:
Designs first created as paintings on silk as batik, faux batik,or the Serti method, and more. Painting on silk is done with the use of resist, diluentants, and dye.