Boho Baby // Middle Eastern Metallic // Turkish...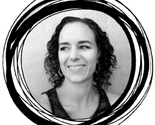 All designs by Zirkus Design
Hi! I'm Chamisa, an Arizona-based creative and lover of vibrant patterns, gorgeous stationery, and playful hand lettering. I enjoy creating CUSTOM PATTERNS, so let's chat about your project. ZirkusDesign@gmail.com
Description:
Inspired by Nana's travels and the rugs that adorned her home, shiny up your space with this gunmetal and copper geometric pattern collection.