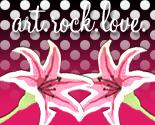 All designs by Marisa Roberts-Hauptman
My designs are equal parts cute, rock and roll, and just a little geeky. Just like me! I love graphic design and combining color and pattern in creative ways.
Description:
A turquoise and red carnival-themed collection of fabrics. These could be used to decorate a party or child's room or nursery. A fun mix of both vintage and modern.