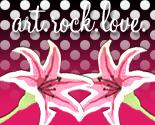 All designs by Marisa Roberts-Hauptman
My designs are equal parts cute, rock and roll, and just a little geeky. Just like me! I love graphic design and combining color and pattern in creative ways.
Description:
A set of fun and totally rockin' prints and sewing kits, perfect for decorating a young rocker's bedroom. Many designs are also inspired by the 1980s, because everyone knows that was the rockingest decade. The main colors are black, hot pink, turquoise, lime green, and purple.