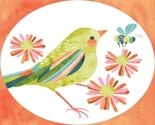 All designs by Julie Lynch
I am a graphic designer from the Adelaide Hills in South Australia with a love of fabric design and illustration. I hope you enjoy looking at my designs.
Description:
A selection of Australian wildflowers such as flannel flower, hakea, wattle, kangaroo paw, gravillea, helichrysum and some sweet little wrens.