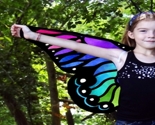 All designs by Wendy Sloan
I create original art for my own products and sometimes release the art for sale only via Spoonflower. All of my designs are Copyright Wendy Sloan. Many designs are registered with the US copyright office. Please contact me for licensing in USA only.
Description:
Chevron designs with a sweet Grey Fox with trees, leaves, flowers, sunshine, clouds and stripes. Layers of pastel colors and textures plus multi directional fabric suitable for boys and girls.