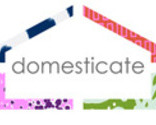 All designs by Andrea Whalen
For any QUESTIONS, LICENSING or to share PHOTOS please contact me: andrea@domesticatedesigns.com. FOLLOW on Instagram @domesticate. CUSTOM COLORS are back! Please contact me for lead times.
Description:
My take on traditional African mudcloth designs. Mudcloth is produced by printing patterns on hand-woven cloth with mud, then covered by a mixture of ground chaff or plant fiber. Once dry, the fabric is dipped in pits or vats of dye then laid to dry in the sun. After rinsing out the dried mud the pattern is revealed as the undertone of the fabric. It is a process requiring skilled artisans passed down from generations.