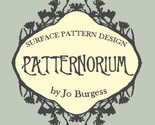 All designs by Jo Burgess
I have recently rebranded myself as Patternorium, I have kept my name as Uzumakijo on here as have many followers, but can be found elsewhere online as Patternorium. If you would like any of my designs in a different size or repeat just drop me a message!
Description:
Not that my other designs aren't child friendly at all haha!! Just these ones are more aimed at kids than the others, still who am I to say, I still feel like a kid and I'm 40 hahah!!!