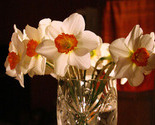 All designs by Carolyn Hollingsworth
Artist, photographer, Photoshop enthusiast and textile lover. Possibly a fabric hoarder. A favorite art school professor said we would miss the assignments most after graduating. Thanks Spoonflower contests for filling a gap!
Description:
I rescued these early daffodils from an extraordinary late snow March 3, 2009, and, on a lark, photographed them in the wee hours that night. Through the sometimes magic of spending a few - or , more accurately, "countless" - hours with Photoshop they have become an endless flowery cloud. Sure, fall is upon us, and then the winter, but spring will come again. I will be ready!