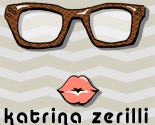 All designs by Katrina Zerilli
Katrina is a full time designer living in sunny Denver, Colorado. She is currently on a small team of amazingly talented designers at Margot Elena Companies & Collections. Her freelance illustrations can be found on Eddie Bauer Baby at Target!
Description:
This is a mainly pink collection with hints of green, yellow, and coral. Inspired by some Art Nouveau shapes, big flowers, and playing with the foreground/background to make some subtle prints.