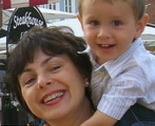 All designs by Andrea Möllenkvist
I have always loved colors and shapes and this is a great way to express it :) Thank you for stopping by! Let me know what you think about my designs. Enjoy!
Description:
"As above, so below." The Hermetic phylosophy unifies macro and microcosmos and conveys the view of an orderly, harmonious and organic universe.