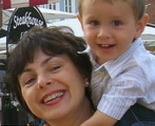 All designs by Andrea Möllenkvist
I have always loved colors and shapes and this is a great way to express it :) Thank you for stopping by! Let me know what you think about my designs. Enjoy!
Description:
Kokopelli is a fertility deity, usually depicted as a humpbacked flute player that has been venerated by some Native American cultures. Kokopelli presides over both childbirth and agriculture. He is also a trickster god and represents the spirit of music.