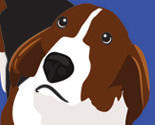 All designs by Elishka Jepson
Rocket scientist by day, graphic designer by night! I am happy to do customizations of any of my designs - send me a message on Spoonflower or drop me a line at robyriker@aol.com!
Description:
Flowers made up of squares! The color combination possibilities for this design are endless! Please let me know if you would like a specific combo, or if you would like any of the prints resized!