Weapons of Sewing Satisfaction!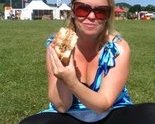 All designs by Kerry Mackay
A Scottish lass living in Wales. Lab geek, sewing addict, dedicated wine drinker, mother and expert juggler. I seriously love fabric! My fabrics can be used for any purpose, I love to see photos of craft projects! Join me on my FB page xxx
Description:
The usual pretty quilting fabrics - chainsaws, handguns etc...