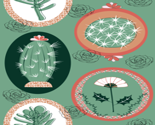 All designs by Lisa Early
I love all things natural; birds, fish, flowers, bugs, dirt, you name it! I love to create things with paint, paper and fabric, and I am delighted to be able to add surface fabric design to my list of joys.
Description:
I made a color palette in blues, tan and gold and used a diamond shape to lay out my colors. Suddenly I had a kite design in progress!