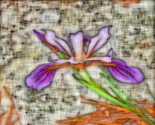 All designs by Laura Strauss
I'm a teacher by trade with a side of frustrated artist and an obscene love of fabric. All of my patterns were once found in nature. Most patterns are shown in a larger size. All patterns may be sold in other's projects. I am happy to work with you!
Description:
This design has an abstract beachy feel. Each design is named for seasons or times of day in a beach setting.