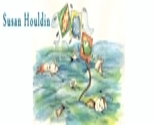 All designs by Susan Houldin
I am an artist that enjoys creating fun loving illustrations of animals, painting flowers, and sculpting . I grew up in the Catskill Mountains, lived in Boston for many years and have been residing in Western MA for over ten years. Welcome!
Description:
These designs are made up of my original illustrations.