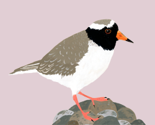 All designs by Melissa Boardman
I am a Kiwi illustrator inspired by the variety of unique birds that inhabit the forests, shores and skies of NZ. As well as illustrating birds I love creating abstract patterns inspired by aspects of nature.
Description:
Abstract prints to compliment the bird prints I have available.