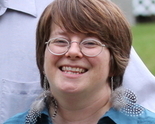 All designs by Phoebe Baker
Large, complex designs are a joy to work with! I enjoy experimenting with new techniques. I love to read. My favorite books used to be Science Fiction and Fantasy, but Biography and Poetry capture my attention now. I relish the unexpected.
Description:
Various iterations of rectangles. A fun book combining both geometry and fantasy is Edwin Abbott's Flatland . It was written in 1884, so there should be free, on-line copies out there.