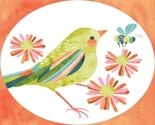 All designs by Julie Lynch
Thanks for looking at my designs.
Description:
Lush florals, berries, birds and insects. Its time to reflect on life in the garden, at dawn, midday or dusk. This collection has been developed for any project from quilting and crafts to home decorating. Designed for the Fabric8 contest.