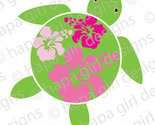 All designs by Jennifer Gonzales
Graphic artist, mom & wife originally from Hawaii (reside in Austin, TX). Modern animal & nature designs. All designs are copyright.
Description:
Honu in Hawaiian means "sea turtle" and Happy Honu is one of my most loved designs amongst my customers and fans. Happy Honu represents many of the sea turtles found in Hawaiian waters particularly the Green Sea Turtle. In my designs you'll see Happy Honu on surfboards, decorated with hibiscus and many other cool elements.