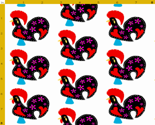 All designs by Joseph Silva
I am primarily a photographer but I also work in other disciplines. Some of my Spoonflower designs are derived from my original photographs.
Description:
The Legend of The Barcelos Rooster dates back to the 17th Century when a crime was committed in the Northern Portugal town of Barcelos. The accused, a Pilgrim, was sentenced to death by hanging. He repeatedly plead his innocence and stated that a cooked rooster would come back to life and sing which would therefore prove that he was not guilty. When the rooster sang, the Pilgrim was released. The Barcelos Rooster has been a symbol of Portugal ever since.