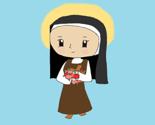 All designs by Saintly Stitches
Hello! and Welcome to Saintly Stitches! Most of my designs, weather you want them printed on fabric, wallpaper, or gift wrapping paper, are based on some amazing Catholic Saints and concepts. God Bless!
Description:
This is a collection of coordinating fabrics for quilts or any craft that are based on the design that present Nuns to a younger level.