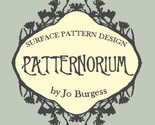 All designs by Jo Burgess
I have recently rebranded myself as Patternorium, I have kept my name as Uzumakijo on here as have many followers, but can be found elsewhere online as Patternorium. If you would like any of my designs in a different size or repeat just drop me a message!
Description:
Hand drawn in pen and ink, seamless repeat pattern of Woodland creatures in frames surrounded with a twisting, rose vine border, in many different colourways.