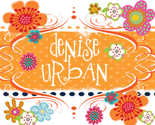 All designs by Denise Urban
No one would ever call me a minimalist. I love putting diverse patterns together. I'm an eclectic artist whose creative curiosity is insatiable. I'm passionate about color, pattern texture and fabric.
Description:
Kids really do love monsters and having a monster birthday party is not just for Halloween – it's fun any time of the year ... so my main inspiration for this ugly monster theme came from these fun whimsical goofy monster cartoons above and crazy anime cartoons from Japan! There's nothing wild or scary about these guys – they definitely look like they're having a blast! I love bright colors, a great party and I absolutely love birthday cake! Above are some really cool monster party supplies, activities, cake and cupcake ideas to help you plan a delightful "Monster Party" that the kids will love. No need to worry they won't scare the kids! Below is the result of my inspiration. I've designed the Alien Insect Party Collection along with a myriad of plush toys and home decor products for that crazy kid in all of us!