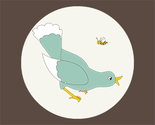 All designs by Isabella P.
Designs 'Inscribed here... by Isabella P.' are available from Spoonflower for personal and commercial use. Please message me if you would like to have colours or sizes adjusted. All designs © Isabella P., All Rights Reserved.
Description:
My flights of fancy - designs inspired by modes of flight and the patterns featured within them.