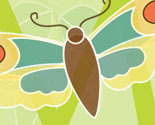 All designs by tamara kate serrao
I love colour & I love pattern. These feed my passion as a package designer, graphic designer & licensed fabric designer. Thanks for stopping by.
Description:
My entry in the Fabric8 contest. A watercolour and pen & ink collection of fantastical butterflies' migratory journeys. An ode to colour, pattern, light & movement.