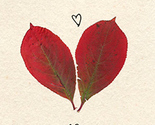 All designs by Lisa Linkovich
I'm a designer, with a background in architecture and web design. I also have a love for things handmade. Welcome to my Spoonflower shop.
Description:
The inspiration for this collection was the leaves themselves. When I was looking for fabrics to pair with the leaf fabrics, I came up with the idea of outlining the leaves to create matching illustrative, solid-colour patterns.